Almost all dividend-paying large U.S. companies increased their payouts or kept them steady in the the third quarter, delivering a 4.5% increase in cash distributed that trumped the global trend.
In its latest quarterly report on the world's 1,200 biggest public corporations by market value, U.K.-based fund manager Janus Henderson said 98% of U.S. companies surveyed did not trim their dividends, compared to 89% worldwide.
The pace of U.S. dividend growth slowed for an eighth consecutive quarter amid concern about economic prospects after the Federal Reserve looked to damp inflation via higher interest rates. But with $146.6 billion paid out in just the third quarter, the U.S. is still in line to post a record payout for 2023, according to Janus Henderson.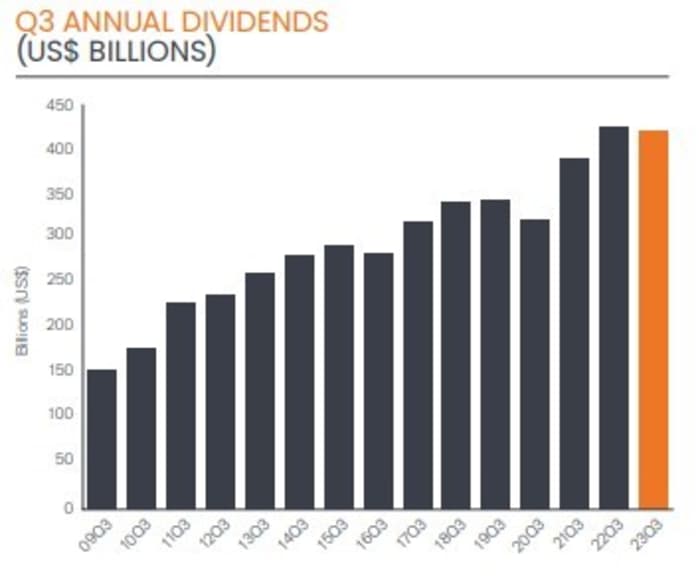 Microsoft
MSFT,
+0.98%
and Oracle
ORCL,
+1.71%
alone contributed 20% of the $3 billion increase in U.S. third quarter dividends, while the restoration of payouts from Southwest Airlines
LUV,
+5.24%,
Las Vegas Sands
LVS,
+3.91%
and Delta Airlines
DAL,
+3.13%
after pandemic-induced interruptions contributed about 15% of the increase.
However, the global dividend total fell 0.9% in the third quarter to $421.9 billion as a number of resources groups trimmed their payouts. Cuts in the mining sector were four times larger than in any other sector, with dividends falling 36.9% on an underlying basis, the survey showed. More than half the mining companies reduced their distributions year-on-year.
The two biggest reductions came from Brazil's energy giant Petrobras
PETR4,
+1.37%
PBR,
+2.00%
and Australian miner BHP
BHP,
+1.78%
BHP,
+3.87%.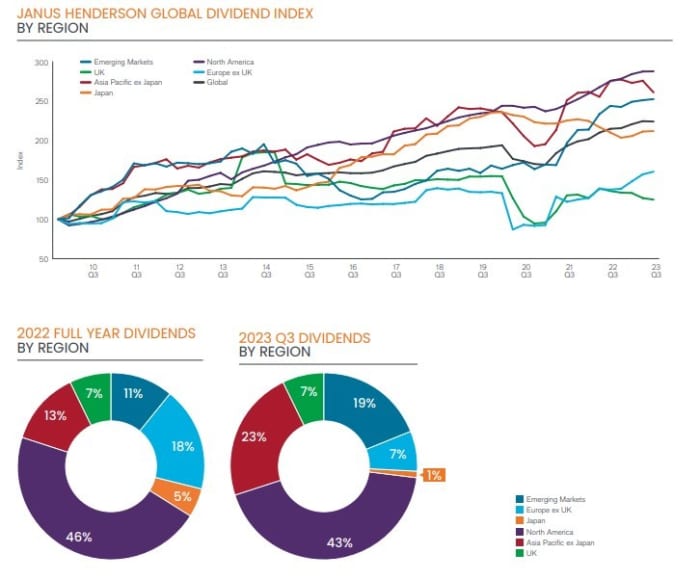 Such cuts were offset by strong banking dividends in most parts of the world — up 9.3% on an underlying basis — and by rising payouts across a wide range of other sectors, especially utilities and vehicle manufacturers.
"Apparent weakness in Q3's global dividends is not a cause for concern, given the large impact a handful of companies made," said Ben Lofthouse, head of global equity income at Janus Henderson. "In fact, the level and quality of growth look better this year than seemed likely a few months ago as payouts have become less reliant on one-off special dividends and volatile exchange rates."
And he added: "It is quite common and well-understood by investors that commodity dividends will rise and fall with the cycle, however, so this weakness does not suggest wider malaise."
China's companies showed their largesse, raising payouts 7.8% on an underlying basis to a record $38.2bn. The biggest positive impact was made by PetroChina
857,
+2.56%,
which more than doubled its dividend year-on-year to $6.5bn, making it the second largest payer in the world in the third quarter,
Top payer was China Construction Bank, with compatriot China Mobile coming in third.