The meaning of the word "independence" really shines through at some senior living facilities. 
The desire to fulfill lifelong dreams doesn't end at the doors of a nursing home — or any other type of residence geared toward older people — as evidenced by the residents of StoryPoint Senior Living, which runs a chain of independent, assisted-living and memory-care facilities. One of those facilities, Independence Village Waukee in Waukee, Iowa, was highlighted in a TikTok ad during the third Republican presidential debate this month. 
"A lot of people think, in independent and assisted living, this is where they go to die," said Kristen Dillard, senior marketing leader at StoryPoint Group. Staff members across the company's locations, many of whom are known as "life-enrichment directors," are striving to prove that idea wrong. They ask residents what they would like to do, or what they hope to do, and then they "take it up a notch,"  Dillard said. 
The goal, she said, is to utilize every minute of every day to enrich residents' lives, including by helping them do what they may think they'll never be able to do — or what "society says you're too old to do."
One of StoryPoint's pinned videos on TikTok shows a group of residents, one dressed in red and the rest in white, dancing to a Rihanna song. It has garnered more than 441,000 views and even received a comment from Rihanna's lingerie company, Savage X Fenty.
The company's residences are mostly located in the Midwest, although there are some outside of that area, including in Connecticut and Tennessee. 
More than 810,000 people in the U.S. live in assisted-living facilities, according to Consumer Affairs. That's only one category of senior living: Another 1.35 million people live in nursing homes. These residences have been linked with negative experiences, including during the pandemic.
Older Americans, including people in senior living arrangements, are at a higher risk of suffering from loneliness, with more than one in three older people in assisted-living facilities facing "adverse health outcomes" that stemmed from loneliness, according to a 2019 report published in the National Library of Medicine.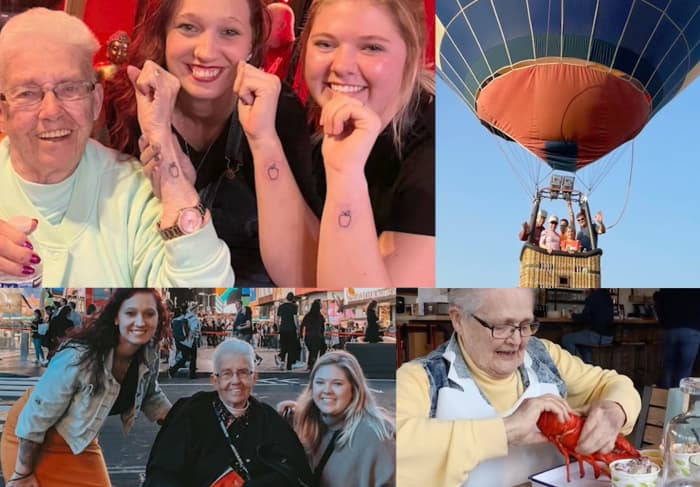 MarketWatch spoke with Dillard about the TikTok spotlight and about using social media to promote a new perception of aging. This interview was edited for length and clarity. 
MarketWatch: What sorts of cool things do you do with residents to share on TikTok? 
Dillard: Our life-enrichment team's goal every day is to have residents have something to look forward to. One of our residents, they've been to 49 states and the only one missing was Maine, so the life-enrichment director figured out how to take our resident to Maine, to Acadia National Park. One of our residents in their late 90s wanted to get a tattoo, so the resident and life-enrichment director got matching tattoos. One of our memory-care residents used to fly planes, so the life-enrichment director got them in a plane with a pilot to fly again. 
MarketWatch: How do the residents react to creating content, or participating in it, on a platform like TikTok? 
Dillard: They love it. They've been interviewed on the Australian version of "Good Morning America," and they love it. No one is ever forced to be in a TikTok or social-media . It's just cool to show family the ones that go viral. They say, "Can you believe it? We're famous!" 
MarketWatch: Why is it important to showcase these sorts of videos on a platform like TikTok, or to the general public? 
Dillard: It is another way to show that senior living doesn't have to be negative. Society tells us, don't age, you're only beautiful if you're young. We're trying to combat that messaging. Your hopes and dreams don't have to end when you go to a senior living facility. You can flourish.
Especially on TikTok — it is a younger demographic, [and] they can see it and can help encourage their grandparent or a loved one to do cool stuff.
Aging doesn't have to be a bad thing. You can still be amazing at 95 years old. 
Now read: A new senior-housing project will tackle the 'middle ground' between living alone and needing a nursing home