New York Mets owner Steve Cohen wants his baseball team to have new neighbors.
On Tuesday, Cohen released plans to build an $8 billion entertainment complex on 50 acres surrounding Citi Field, home of the New York Mets. The plans call for a music venue, casino and hotels.
The new venue, to be called Metropolitan Park, would replace Citi Field's parking lots with restaurants, a sportsbook, athletic fields and a tailgate area. The development would also include renovations to the surrounding transit centers — a commuter-rail station and a subway station. Both transit lines serve not only Citi Field, but the Billie Jean King National Tennis Center, home to the annual U.S. Open Tennis Championship. They will also serve the soccer stadium that will be home to NYCFC of Major League Soccer.
"It's time the world's greatest city got the sports and entertainment park it deserves," Cohen said.  "When I bought this team, fans and the community kept saying we needed to do better. Metropolitan Park delivers on the promise of a shared space that people will not only want to come to and enjoy, but can be truly proud of."
Hard Rock International is collaborating with Cohen on this project. According to the Metropolitan Park plans released on Tuesday, the project will cost $8 billion, although it did not say how much of that cost Cohen will be assuming. In some instances, taxpayers have paid for a portion of new sports complexes, such as with the NFL's Buffalo Bills.
Representatives for Cohen and the Mets did not immediately respond to MarketWatch's requests for comment.
The complex is simply a proposal at this point, and would need the approval of the state legislature and the governor. In addition, any new casinos being built would need to obtain proper licenses with the New York Gaming Commission.
Giant multi-sport complexes are far from a new concept, however.
The NBA's Golden State Warriors built the Chase Center in San Francisco in 2019. The 11-acre complex includes a stadium for games and concerts, as well as a plethora of bars, restaurants and places to shop. Similarly, the NBA's Milwaukee Bucks built a 30-acre complex called the Deer District in 2017 that includes the team's stadium, areas for viewing parties, as well as restaurants and shopping areas.
The Chase Center cost the Warriors owners $1.4 billion, according to Business Insider, while the Deer District real estate plan had a reported total cost of $500 million, much lower than the proposed $8 billion cost of the Metropolitan Park.
"Team owners, elected officials, and real estate developers, among others, seek to drive incremental business by expanding the gameday experience," David Carter, a sports business professor at the University of Southern California, told MarketWatch.
"Cohesive and compelling plans can increase initial public and private investment while delivering long term ROI," he said. "Team owners are keenly interested in leveraging their sports holdings to drive their other business interests, increasingly using adjacent real estate to do so. Elected officials seek to monetize, via tax revenue, the positive externalities that come from sports and sport-related offerings."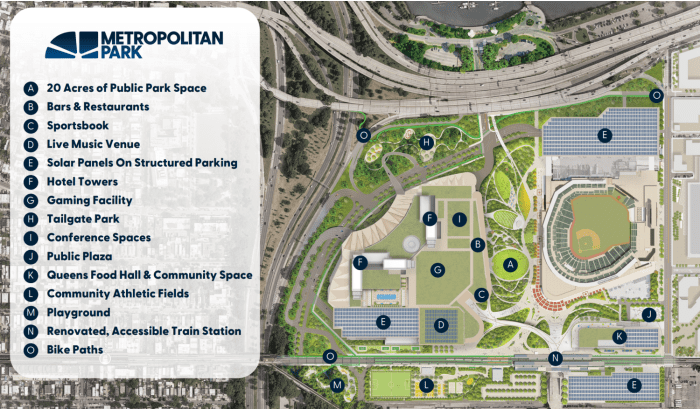 "We're so excited for this potential to bring millions of new visitors to the heart of Queens every year," Luisa F. Torres, owner of Mojitos Restaurant Bar in Jackson Heights, said in the release.
Cohen, who is also the founder and chief executive of Point72 Asset Management, purchased the Mets for $2.4 billion in 2020 — Cohen's deal to buy the Mets from the Wilpon family is still the largest franchise sale in MLB history.
Cohen's net worth is $19.8 billion, according to Forbes, making him the 82nd-richest person in the world.
Read on: Mickey Mantle's childhood home could be the next big IPO