It took a shoulder injury to stop midfielder Jude Bellingham's historic goal-scoring run at Real Madrid.
After arriving for an initial €103 million from Borussia Dortmund this summer, the 20-year-old scored 13 goals in his first 13 games for the club, matching the starts of arguably Los Blancos' two greatest players, Alfredo Di Stefano and Cristiano Ronaldo. It was a better beginning to a Real Madrid career than Ferenc Puskas (11 goals in 13 games), Raul Gonzalez (7), Hugo Sanchez (7) or Emilio Butragueño (6) were able to deliver.
– Stream on ESPN+: LaLiga, Bundesliga, more (U.S.)
Then, in the 10th minute of Madrid's 0-0 draw with Rayo Vallecano in LaLiga on Nov. 5, an awkward fall knocked Bellingham off his stride. He dislocated his shoulder, played on and completed the 90 minutes, but wasn't moving freely. Bellingham was left out of Madrid's Champions League win over Braga and briefly returned to the squad for Saturday's game with Valencia, before the club announced his withdrawal citing "anterior instability of the left shoulder."
The enforced absence — with Bellingham also missing England's two Euro 2024 qualifiers during the international break — gives us a chance to catch our collective breath after Bellingham's electric start to life at the Santiago Bernabeu, which has seen comparisons made with everyone from Ronaldo to Di Stefano to Zinedine Zidane, and ask: How exactly has he done it?
Bellingham has been scoring goals this season at an unprecedented frequency in his brief career to date. He scored 14 goals for Dortmund in all of 2022-23; he scored six in 2021-22; the season before that, his first in Germany, he scored four. This is a player whose goal-scoring volume has suddenly increased at a frightening rate. Instead of buckling under the pressure of joining the biggest club in the world, he has blossomed.
---
"It's incredible." Savio knows all about that pressure. An elegant wide forward, he had played for Brazilian giants Flamengo and represented his country at an Olympic Games before joining Real Madrid in January 1998. Still, he was taken aback.
"I came from Brazil, from a big club," he tells ESPN. "I knew what it was all about, the expectations and the pressure. But when you arrive [in Madrid] and see what it's really like … What I'd been told was nothing. Madrid is so big, it's amazing. There's constant pressure. I had to adapt.
"Watching a player like Bellingham, he gives the impression that he's been playing for Madrid for a long time, for three, four or five seasons already. He's got an amazing talent, with huge technical and tactical quality."
Savio went on to win three Champions Leagues with Madrid in 1998, 2000 and 2002, scoring 30 goals in 160 games before the Galactico era saw him lose his place in the team.
"You don't get to Real Madrid if you don't have the talent," he adds. "But as well as quality, you need a lot of personality. A lot of very talented players didn't deliver at Madrid. It's different, with the pressure at the Santiago Bernabeu. If you don't have that emotional balance, the mental strength and personality, it's difficult to play there.
"When I arrived, Roberto Carlos said to me: 'Savio, I know your talent from Brazil. We've played against each other, and we've played together. Here, you have to be you. Be yourself. Do what you did in Brazil. Be natural.'
"I tried to do that. Bellingham has shown that as well as his quality, he has mental and physical strength, and an impressive personality. He's smart. Very smart. He knows where he has to be. He has that intelligence on the field."
Much of Bellingham's goal scoring so far embodies what the Spanish call "Llegada": A midfielder's knack of timing their run into the penalty area to do maximum damage to the opposition.
"[Bellingham] has something important: the ability to get into the box," Savio says. "He's a modern player. Getting into the box, scoring goals. He has defensive power, he's impressive tactically. He has every aspect to his game. But the fundamental point is his ability to get into the box."
---
Maturity. Personality. Intelligence. Llegada. Those are some of the intangible factors which have helped Bellingham score 10 goals in 11 LaLiga appearances, and three goals in three Champions League games. A look at the statistics (graphics below are sized by xG) helps tell a more detailed story.
Those 10 LaLiga goals have come with an xG (Expected Goals) of 4.84. In other words, Bellingham has scored more than twice as many league goals as we would expect him to, given the opportunities he has had. Only two players in Europe's top five leagues, VfB Stuttgart striker Serhou Guirassy and Bayern Munich star Harry Kane, have outperformed their xG at a higher rate.
Bellingham has not had a particularly high number of shots — 27 in LaLiga compared to teammate Rodrygo's league-high 41, from which the Brazilian has just three goals — but those shots have been accurate. Of those 27 shots, 17 have been on target. Only five players in Europe's top five leagues — Kane, Erling Haaland, Kylian Mbappé, Victor Boniface and Iñaki Williams — have had more. And all of them are true forwards, not converted midfielders.
He has also been disciplined in choosing the positions from which he goes for goal. Indeed, 78.4% of Bellingham's shots in LaLiga and the Champions League have come from inside the box. Only one of his goals, his thunderbolt equaliser against Barcelona in El Clasico, was scored from outside the area.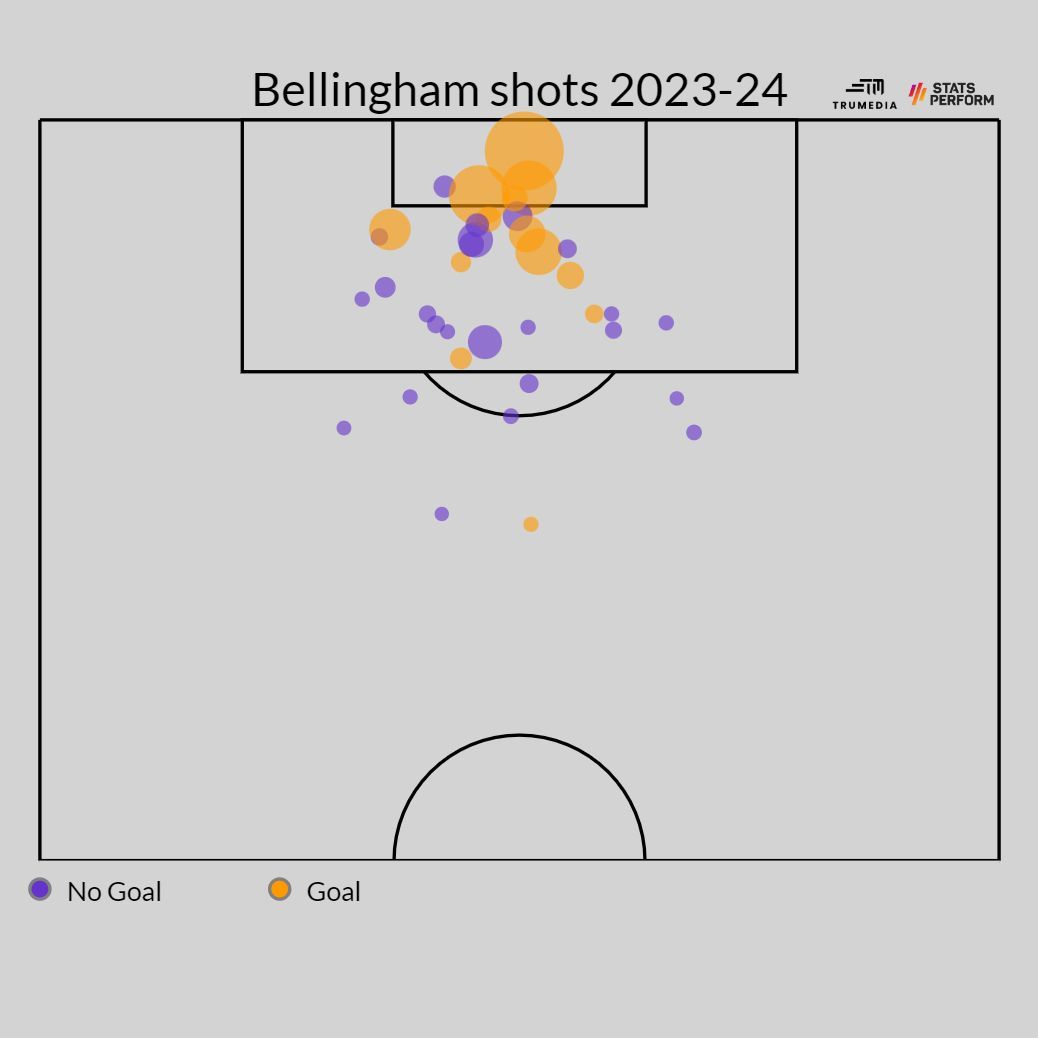 To break down Bellingham's 13 Real Madrid goals in detail, ESPN spoke to Andrea Orlandi, a former player who is now director of football at By and For Sport Management, the agency which represents Antoine Griezmann. Orlandi is one of the brightest of a new generation of LaLiga analysts.
"[Real Madrid coach] Carlo Ancelotti is so clever," he tells ESPN. "He could foresee what [Bellingham's] abilities were. Without [striker] Karim Benzema, they needed to find someone to be in the box. Rodrygo and Vinicius Junior are more like wide players. They'll make the right movements, but they need someone to play with, and to be in the box. And [Bellingham] is the man."
BELLINGHAM'S 13 REAL MADRID GOALS SO FAR
1. vs. Athletic Club, Aug. 12
Bellingham scored on his LaLiga debut at San Mamés, taking David Alaba's corner on the volley to put Madrid 2-0 up. He later admitted he got lucky with the finish, striking the ball into the ground, so it bounced up and over goalkeeper Unai Simón.
"When you hit the ball with the inside of your foot, you don't try to make it bounce, to get that trajectory," Orlandi says. "So I believe him when he says it was a bit lucky … But the interesting thing here is using [Aurelien] Tchouameni to block his man. That's being clever. That comes from the training ground. The corner comes in, you use your teammate, and you pull away [from your marker.] The connection isn't what he was looking for, but he didn't mind."
2. vs. Almeria, Aug. 19
Bellingham's second goal for Madrid — the equaliser in a 3-1 win away at Almeria — wasn't the prettiest, either. Dani Carvajal's chipped cross was headed down by Fede Valverde and the ball rebounded off Bellingham's chest, onto a defender, and then fell at his feet to finish first time.
"What I like is his positioning," Orlandi tells ESPN. "When Ancelotti set this system up, they wanted to have him in the box. You might think it's lucky, but he's in the right position. He knows what he's doing when he gets that rebound, it's instinctive … It's the composure of a player who's 20, playing for Real Madrid, who had a good debut and then does it again. It's the understanding of what's required and when. Real Madrid needed that player in the box. He knows that."
3. vs. Almeria, Aug. 19
Forty minutes later, Bellingham put Madrid in front. Toni Kroos spotted the midfielder's darting run into the box and played an inch-perfect ball onto the Englishman's head.
"The timing of that run, you can't really coach that," Orlandi says. "Average players like me, even though we tried … if you don't have it, you can't coach it. It's a bit of instinct, intelligence, adaptability arriving at a new club. He knows his teammates well already."
4. vs. Celta Vigo, Aug. 25
Again, the Kroos-Bellingham connection gave Madrid a 1-0 win at Balaidos. Kroos' corner was flicked on by Joselu, and Bellingham headed in from just inside the six-yard box.
"That's a No. 9's finish," Orlandi says. "He's got the defender [Celta's Joseph Aidoo] on him and he still has the strength to stay there. He keeps him in a position where he has the advantage, he's in front of him. The defender is on the wrong side. [Bellingham] is a big lad, he gets ahead of him and that's instinctive as well. You can say 'he got lucky again' but how many times?"
5. vs. Getafe, Sept. 2
Bellingham's first late winner, a 95th-minute goal which saw Madrid beat Getafe 2-1 in his first game at the Bernabeu. Lucas Vázquez took an optimistic shot from outside the box and when Getafe goalkeeper David Soria spilled the ball, Bellingham was there to tap in. He later called the crowd's reaction the "loudest moment I've heard in a stadium."
"This is him understanding that there's a good chance that he's going to get the second ball," Orlandi says. "When everyone else stops, looking at the ball, he's running towards the goal. He's the only one on the move. That's why he gets ahead even of a striker like Joselu … He's thinking 'OK, the goalkeeper makes a mistake, I'm ahead of everyone.'
"It's another sign of him having that instinct. He smells it. And that's priceless."
6. vs. Union Berlin, Sept. 20
Another added-time winner, in the 94th minute this time to make it 1-0, and another close-range strike. Valverde's shot ricocheted off two players and fell to Bellingham, with an open goal in front of him.
"Again, look at his starting position," Orlandi says. "The Real Madrid players are all quite close to Union Berlin players. [Bellingham] just loses his man and he's on the run already. He pulls away. He always has that bit of extra space. It's not what you do, but when you do it."
7. vs. Girona, Sept 30
Another striker's goal, taking the ball first time after Joselu's shot had been saved, made it Girona 0-3 Real Madrid. It's a result which looks better every week, with Girona maintaining their status as surprise LaLiga leaders.
"That's a great finish," Orlandi says. "What I liked about this game was that Ancelotti played him more on the left of a flat [midfield] four, closer to Vinicius.
"Again, the ball is lost and he finds it. It's being in the right place at the right time, when the team needs it. That goal killed the game. It's him being optimistic, thinking 'that's for me.'"
Is Jude Bellingham papering over cracks for Real Madrid?
Gab Marcotti and Julien Laurens discuss Real Madrid's questionable performances despite the excellent form of Jude Bellingham.
8. vs. Napoli, Oct. 3
Possibly the goal of Bellingham's Madrid career to date. He put the team 2-1 up away at the Diego Armando Maradona Stadium, collecting the ball just inside the Napoli half and embarking on a mazy run up field.
"He improvises," Orlandi tells ESPN. "I don't think anybody — apart from [Lionel] Messi — gets the ball in midfield and thinks they're going to run at the defenders and score.
"I don't think it's great movement from Rodrygo and Vini. They're close together, they get in the way, so [Bellingham] has to adapt to what's happening around him … it's the adaptability. He's running at the Napoli defenders, they're getting deeper and deeper and once they stop it's too late. He's on the move, and because of his power and technique, it's difficult to stop.
"I think we'll see more of that now when he comes back into the side. More runs, different types of play. More than being a presence in the box, we'll see more on the ball."
9. vs. Osasuna, Oct. 7
Bellingham put Madrid 1-0 up against Osasuna at the Bernabeu. Luka Modric's pass found Carvajal inside the box, and his layoff found Bellingham, who took his time with the finish.
"When Modric has the ball, [Bellingham] is already on the move," Orlandi says. "He starts running, he knows where Carvajal is and then what he does is class and composure … When you take those extra touches in the box, you tend to mess it up. But he does it quickly. The ball from Carvajal wasn't perfect. He did what he had to … I just like the anticipation.
"Players usually receive information, process that information and execute. He takes it and executes; he doesn't have to process it. That's why he's ahead of the rest."
10. vs. Osasuna, Oct. 7
Madrid's second goal against Osasuna was a move started and finished by Bellingham, who drove into the box, played a one-two with Valverde and finished through the legs of goalkeeper Sergio Herrera.
"The finish is great. It shows composure," Orlandi says. "The goalkeeper makes himself big and you need to be accurate. [Bellingham] gives the ball [to Valverde] and he doesn't even need to think, because he's on the move. Before he makes the pass, he sees the space. What I understand from seeing him play is this guy has a brain. He always finds spaces where no-one else does. That's why he keeps scoring."
11. vs. Braga, Oct. 24
Bellingham put Madrid 2-0 up away at Braga in the 61st minute, passing the ball into the net from the edge of the box, from Vinícius' assist.
"[Bellingham] slows his run," Orlandi says. "Normally you get overexcited, you're arriving into the box, saying 'give me the ball, give me the ball!' and you accelerate. But he slows down a bit, and then he has that extra space to take a touch and put it in the bottom corner."
12. vs. Barcelona, Oct. 28
The other contender for Bellingham's best goal so far. Madrid were 1-0 down in El Clasico, having been outplayed by Barcelona for an hour, when Gavi's headed clearance fell to Bellingham outside the box. The midfielder fired the ball past keeper Marc-Andre ter Stegen to make it 1-1.
"It's about the height of the leg," Orlandi says. "When he strikes it, his leg ends up at the height of Fermin [Lopez]'s head. If I tried it, I'd need a hip replacement! His standing leg is firm, and he goes across the ball, and really high. He basically wanted to destroy that ball. It's a moment of 'proof of superiority' if you can say that.
"[It's like]: 'OK, we're Real Madrid, I'm Jude Bellingham, and I've come here to do this.'"
13. vs. Barcelona, Oct. 28
Bellingham's most dramatic moment to date, in added time in El Clasico, silencing the Montjuic crowd with Madrid's 2-1 winner. Modric's miscontrol of Carvajal's pass carried the ball over defender Iñigo Martinez's head, and Bellingham was there to touch past Ter Stegen.
"[Barca holding midfielder] Oriol Romeu starts ahead of him," Orlandi says. "I'm not being harsh on the defensive midfielder — by the end of my career I played in that position and it's terrible — but you see a player going, and normally you think the centre-back is going to get him.
"Joselu is on the pitch by that time, so [Barca defender [Andreas] Christensen is with Joselu, and [Bellingham] sees that Martínez is following Modric. Who's going to think that Modric is going to take a bad touch? [Bellingham] gets ahead of Romeu, behind Martinez, Modric takes a bad touch, and [Bellingham] wins El Clasico in the 92nd minute.
"Some players are touched by the Gods. They were born to have these kind of performances. It's not a coincidence that he scores that goal."
---
So what's next for Bellingham? Real Madrid are hopeful that he'll have recovered from his shoulder injury by the end the international break, when they're due to play Cadiz in LaLiga on Nov. 26.
The challenge will be to keep these extraordinary numbers going, and if not — and his scoring slows down to more closely resemble his xG, as you might expect — to keep improving other facets of his all-round game.
Long-term, Real Madrid president Florentino Perez is already clear about the midfielder's future: Bellingham is "destined to define an era and become a Real Madrid legend" he told the club's AGM on Saturday.
With any other player, you'd be worried about the pressure generated by such a premature statement, just 14 games into his Real Madrid career. But not Bellingham.