CONCORD, N.H. – Republican Gov. Chris Sununu of New Hampshire has a warning for President Biden and Democrats.
"Skip New Hampshire at your own peril," Sununu told Fox News Digital.
The governor spoke minutes after the date of New Hampshire's first-in-the-nation presidential primary was set for January 23.
The announcement by New Hampshire Secretary of State Dave Scanlan on Wednesday puts the Granite State at odds with the Democratic National Committee (DNC), as their primary is now in non-compliance with the DNC's 2024 nominating calendar. The state now faces sanctions, which could result in the loss of half of New Hampshire's delegates to next summer's Democratic presidential nominating convention. 
THIS CRUCIAL PRESIDENTIAL PRIMARY STATE AND KEY GENERAL ELECTION BATTLEGROUND BUCKS BIDEN AND THE DEMOCRATS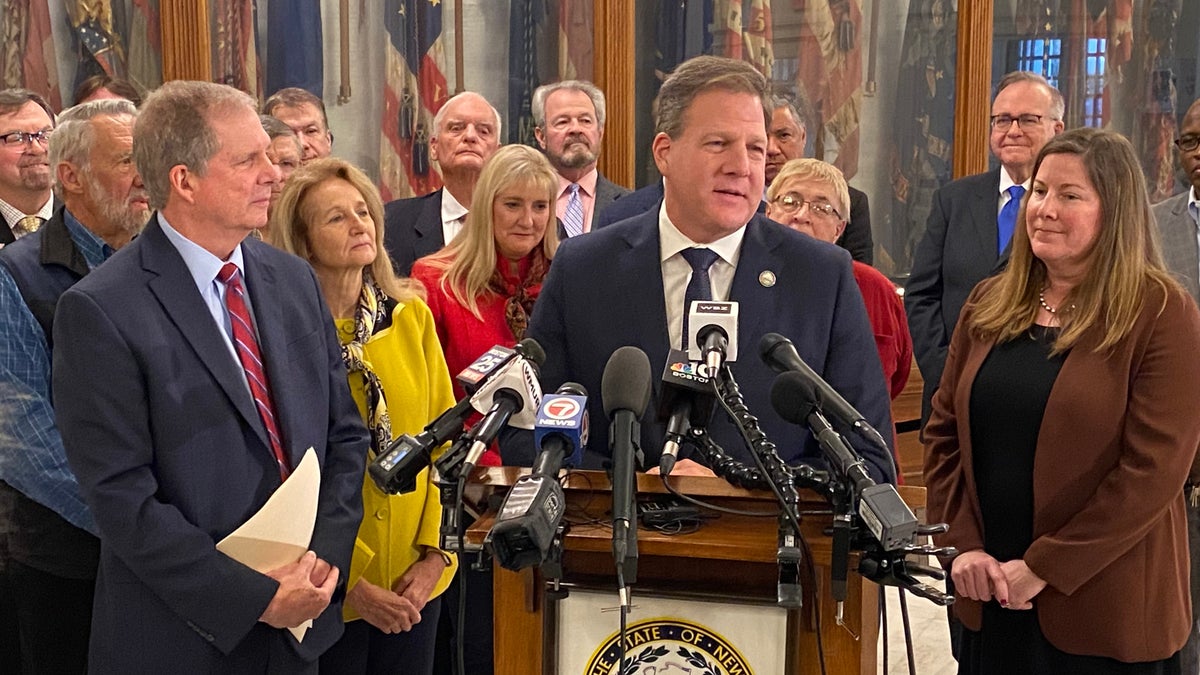 Holding an unsanctioned primary has led President Biden to keep his name off the New Hampshire ballot. That triggered leading Granite State Democrats to launch a write-in campaign in an attempt to prevent an electoral embarrassment for the president as he runs for a second term in the White House.
But Sununu, a vocal critic of the move by Biden and the DNC to upend the Granite State's cherished century-old role in holding the first presidential primary, warns that a price will be paid by the president and his party next November in New Hampshire – the only general election battleground state in New England.
"There's no doubt that citizens all across New Hampshire, especially independents and Democrats, are taking notice that they're being pushed aside by a national party. No one takes very kindly to that — especially in politics, being told that their voice doesn't matter like it used to," the governor emphasized. "I have no doubt it will have a lot of effect come November of '24."
And Sununu argued that "the precedent that President Biden has potentially set is no Democrat will ever dare try to skip New Hampshire again. Because I think it's really going to hurt President Biden. It's going to hurt his chances. It hurts the Democratic Party as a whole."
National Democrats for years knocked both Iowa — whose caucuses for half a century led off the party's nominating calendar — and New Hampshire as unrepresentative of the party as a whole because the states have largely White populations with few major urban areas. Nevada and South Carolina, which in recent cycles have voted third and fourth on the calendar, are much more diverse than either Iowa or New Hampshire.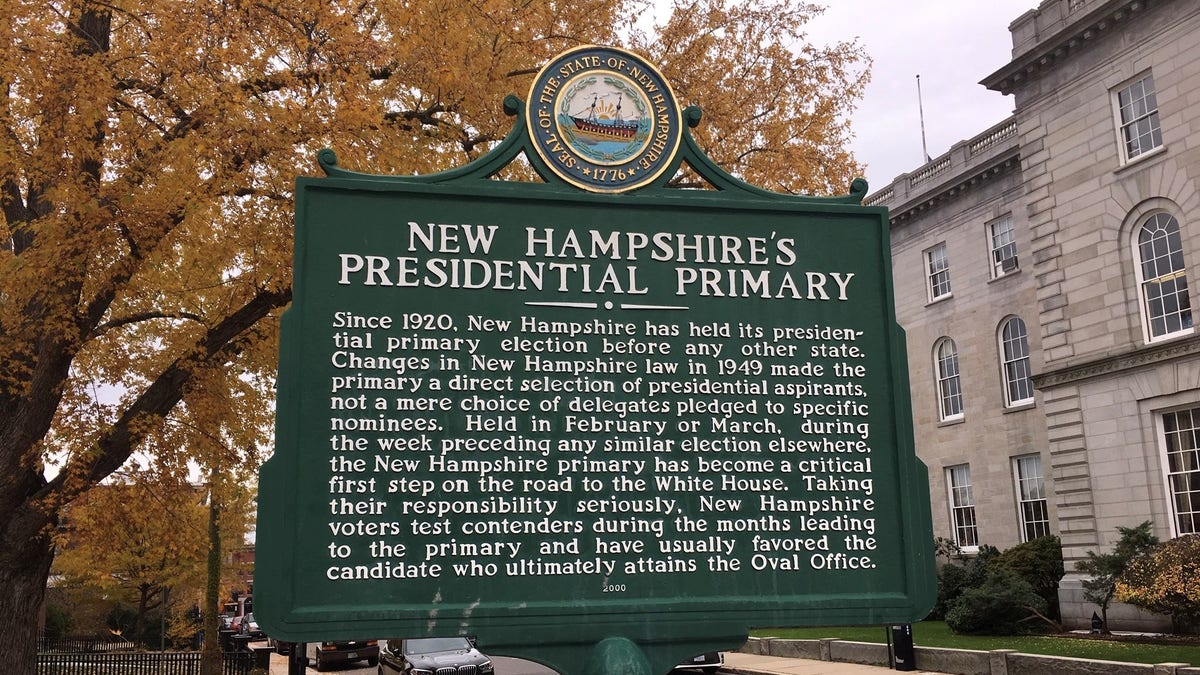 While Republicans aren't making major changes to their schedule, the DNC earlier this year overwhelmingly approved a calendar proposed late last year by Biden to move South Carolina to the lead position on Feb. 3. New Hampshire and Nevada were scheduled to hold primaries three days later, with Iowa entirely losing its early state position. The president and supporters of the new calendar argued that it would empower minority voters, upon whom Democrats have long relied but have at times taken for granted.
To comply with the DNC, New Hampshire would have needed to scrap its 50-year-old state law protecting its first-in-the-nation primary status and expand access to early voting. However, with Republicans in control of the governor's office and both houses of the state legislature, Democrats repeatedly argued that was a non-starter.
Scanlan noted that the date he set "complies with our state statute requiring our presidential primary be at least seven days before any similar event."
New Hampshire's Secretary of State made his announcement in front of a crowd of national and local reporters, state officials and lawmakers, the Democratic and Republican state party chairs, other political leaders and dignitaries, who were crowded into the Hall of Flags at the Statehouse in Concord.
There are plenty of Democrats in Iowa and New Hampshire who see the upending of their lead-off positions as sour grapes from Biden, who finished a disappointing fourth in the 2020 Iowa caucuses and fifth in the New Hampshire primary — before a second-place finish in Nevada and a landslide victory in South Carolina propelled him toward the nomination and eventually the White House.
PHILLIPS TARGETS BIDEN, FELLOW DEMOCRATS OVER BORDER POLICIES AS HE LAUNCHES PRIMARY CHALLENGE AGAINST PRESIDENT
Fast-forward to the 2024 cycle and the president faces long-shot primary challenges from two Democrats who will be on the ballot in New Hampshire.
Three-term Rep. Dean Phillips of Minnesota, one of the wealthiest members of Congress, formally announced his presidential bid as he filed at the State House on Oct. 27 to place his name on the state's ballot. Also on the Granite State ballot is the other challenger, bestselling author and spiritual adviser Marianne Williamson, who is making her second straight White House run.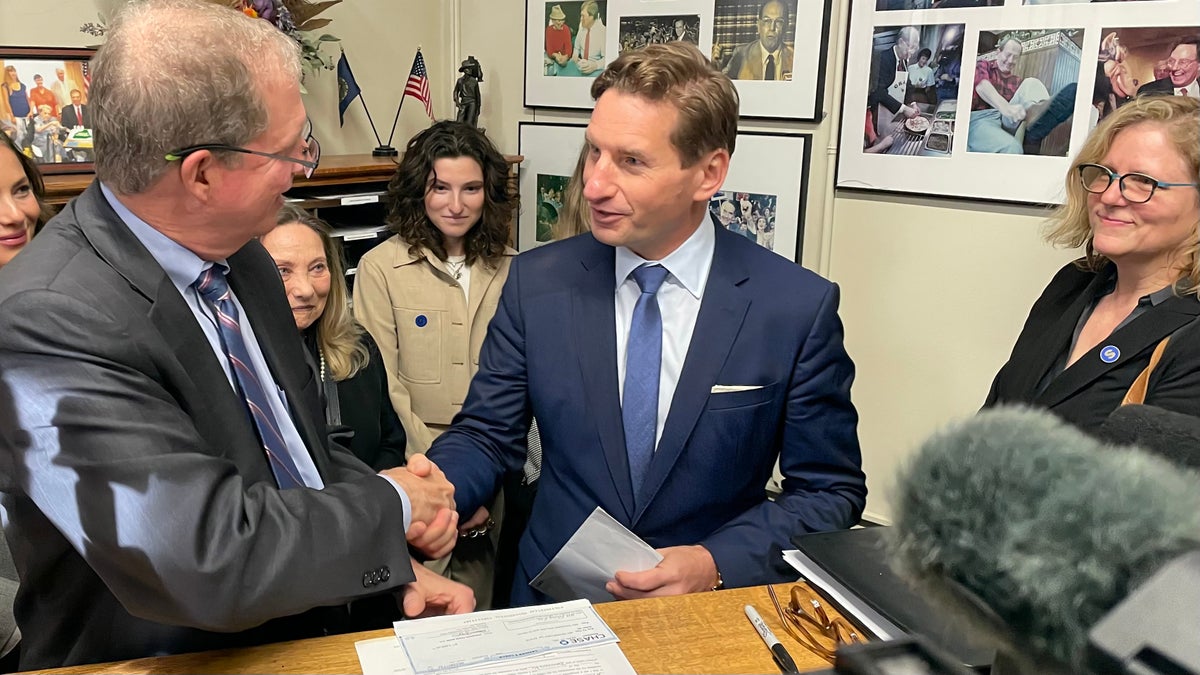 While the president, who turns 81 next week, is the commanding front-runner for the nomination, polls indicate Biden faces mounting concerns from Democrats over his age. Those surveys also suggest that many Americans, including plenty of Democrats, don't want the president to seek a second term in the White House.
There are concerns among Granite Staters that the move by the president and the DNC to revamp the nominating calendar, and his absence from the primary ballot, could lead to a ballot box setback for Biden in New Hampshire.
"Personally, I believe that the president is making a mistake by not putting his name on the ballot here," Scanlan told reporters.
CLICK HERE TO GET THE FOX NEWS APP
Looking ahead to next year's general election, New Hampshire GOP chair Chris Ager promised that "we're going to remind people that Joe Biden doesn't care about New Hampshire. The Republican candidate, whoever it is, will have been here multiple times appealing to people. So reminding people of that fact will help us."
"But whether he's here or not campaigning, it's his polices that are going to be his demise, because they're just not good for the people of New Hampshire," Ager argued.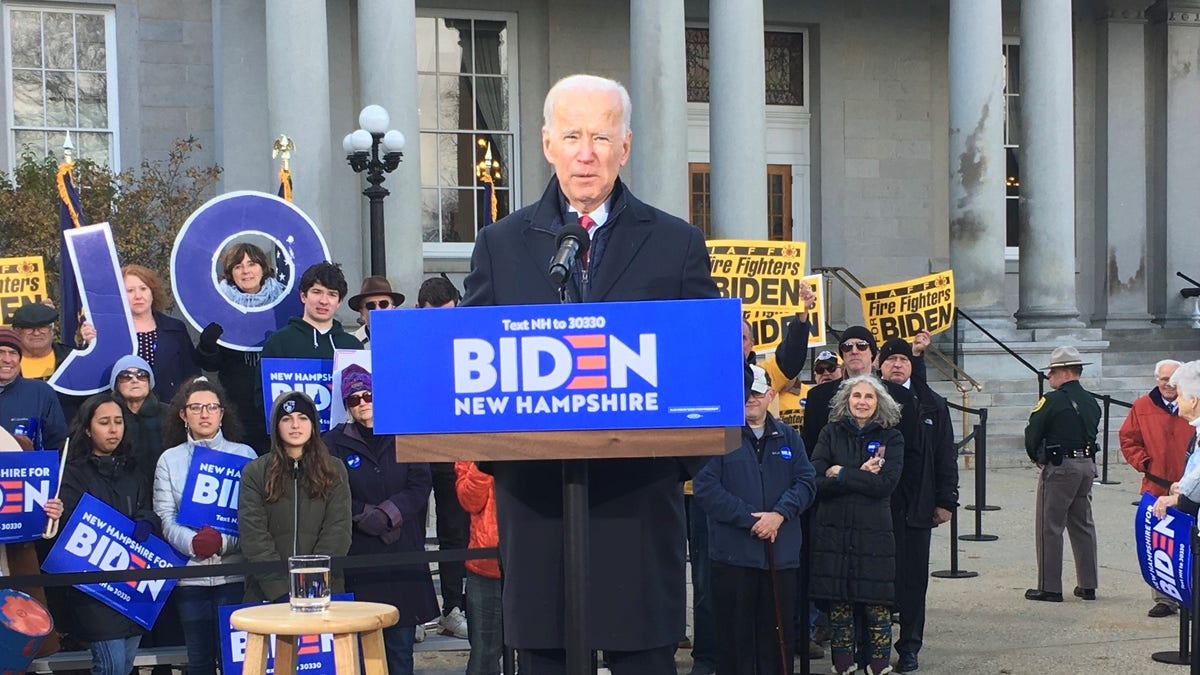 Democrats disagree with the GOP argument that the battle over the primary date will impact them next November.
CLICK HERE TO GET THE FOX NEWS APP
"We fully expect that once the primary is over, Joe Biden will invest and campaign here, and be even more successful than the polls have already shown. Every indication that we're getting is that New Hampshire Democrats are going to have a very good year in 2024," longtime state Democratic Party chair Ray Buckley told Fox News in a statement.
Biden topped Trump by nearly eight points in New Hampshire three years ago, the largest margin of victory in the swing state in a presidential contest in a dozen years.
Buckley touted that "as every poll out of New Hampshire has shown —including the latest, post-municipal election polls — Joe Biden is beating Donald Trump in the Granite State by a considerable margin. The numbers don't lie."
And longtime New Hampshire based Democrat consultant Jim Demers — a top Biden supporter in the Granite State who's helping to lead the primary ballot write-in effort on behalf of the president — predicted that "once the nomination is locked up, the convention takes place, Joe Biden will be back in New Hampshire campaigning."
Get the latest updates from the 2024 campaign trail, exclusive interviews and more at our Fox News Digital election hub.