The strike by United Auto Workers against the Big 3 carmakers is sparking a broader worry among stock-market investors over the outlook for corporate profits.
"If the strike expands, investors can expect to see an impact on the broad economy and pressure on supply chains and corporate profit margins," said Mark Hackett, chief of investment research at Nationwide, in a Friday note.
The UAW set up picket lines shortly after midnight, striking all three big automakers — Ford Motor Co.
F,
-0.08%,
General Motors Co.
GM,
+0.86%
and Chrysler owner Stellantis NV
STLA,
+2.18%
— at the same time. Workers walked out of a Ford factory in Michigan, a Stellantis Jeep factory in Ohio and GM pickup factory in Missouri, leaving scope for further action at other facilities.
Stocks slumped Friday, with the S&P 500
SPX
down 1.1%, and turning fractionally lower for the week. The Dow Jones Industrial Average
DJIA
declined around 275 points, or 0.8%, while the Nasdaq Composite
COMP
shed 1.6%.
Live blog: Big Three automakers facing targeted workplace actions
The UAW, which initially called for a 40% wage increase over four years, is now pushing for an increase in the mid-30% range. American Airlines
AAL,
+0.38%
earlier this summer agreed to a 40% raise for pilots over four years, while United Parcel Service
UPS,
-0.15%
reached an agreement to boost pay for unionized workers by 18% over five years. And a strike by film and television writers continues.
Labor strife comes amid continued tightness in the jobs market, which has proved surprisingly resilient in the face of aggressive Federal Reserve rate hikes.
"Whether it's Hollywood or airlines, pilots, flight attendants, there's a lot of labor stuff going on right now. That can only be a headwind to margins," Hackett told MarketWatch earlier this month.
It speaks to a continued rise in real wages that may not be fully appreciated, he said, arguing that consensus expectations for 12% earnings growth in 2024 may prove overly optimistic.
There's also the threat of a broader disruption to the economy.
Around 13,000 of the UAW's 146,000 members are on strike at the three plants targeted so far.
"The impact on overall GDP should be limited but, if production backlogs create new supply shortages, then strikes could drive prices higher," said Paul Ashworth, chief North America economist at Capital Economics, in a Friday note.
Corporate margins peaked two years ago in the second quarter of 2021 as inflation began to accelerate, noted a team of strategists led by Binky Chadha at Deutsche Bank, in a Thursday note. They then fell for six consecutive quarters as the pandemic boom reversed (see chart below).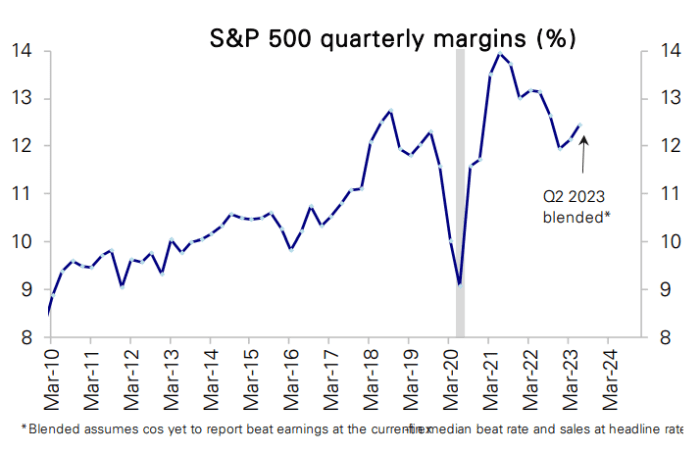 Margins bottomed in the final quarter of last year and have rebounded over the past two quarters as real growth recovered, they noted.
The Deutsche Bank strategists, meanwhile, argued that tight labor markets appear to be a prerequisite for productivity growth.
"It is widely believed that growth cannot pick up without raising prospective inflation. But tight labor markets have historically been a precursor to rapid productivity growth phases as it incentivizes companies to adopt new technologies," they wrote.


In that vein, early estimates are for artificial intelligence to drive a productivity boom, the strategists said, with timing uncertain and magnitudes similar to that seen from the 1990s productivity boom often attributed to investment in tech. That led to notable growth in real wages and returns on investment in the late 1990s (see chart above).