The Dow Jones Industrial Average notched its first "death cross" since March 2022 on Monday, in what some have described as the latest ominous development for stocks as the market looks to extend its November rebound rally.
This time around, two straight sessions in the green weren't enough to keep the Dow out of death-cross territory, as the market's recent three-month losing streak weighed on the blue-chip index's 50-day moving average, while gains from earlier this year helped boost the 200-day moving average.
The Dow
DJIA
closed at 34,337.87 on Monday, according to FactSet data, up 54.77 points, or 0.2%, at 34,337.87.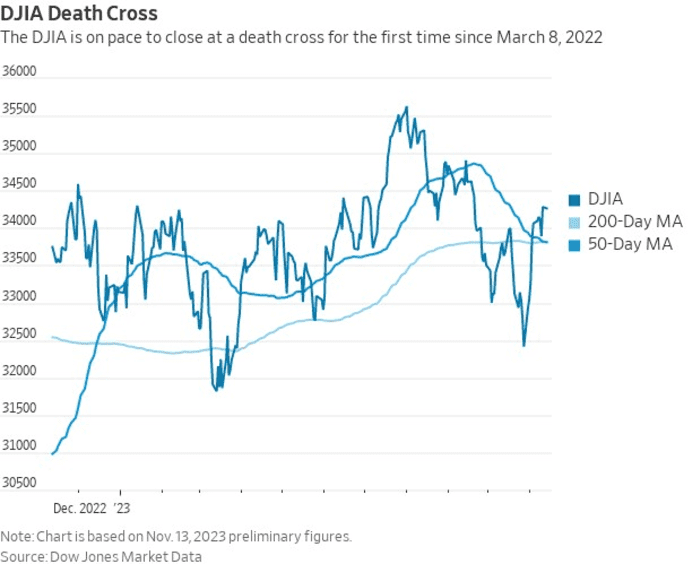 A death cross occurs when the 50-day moving average, considered by market technicians as a proxy for an asset's short-term trend, falls below the 200-day moving average, a proxy for the longer-term trend.
Analysts had warned about a looming death cross for the Dow as recently as late last month, with David Rosenberg, president of Rosenberg Research, describing the prospect as "uber bearish" for stocks.
See: Dow edging closer to bearish 'death cross' signal: What it would mean for stocks
Although typically interpreted as a bearish signal, some technicians argue that death crosses actually signal buying opportunities during bull markets, as they have at times appeared right around market bottoms, as previously noted by MarketWatch's Tomi Kilgore. Others say it's not a true death cross unless the 200-day moving average is declining when the 50-day moving average crosses below it, which wasn't the case here.
Going back to 2000, the Dow was up 8.1% on average one year after a death cross, and up 4.6% three months afterward, according to Dow Jones Market Data.
The gauge was trading higher three months later following eight of the past 10 instances, which occurred between March 2022 and the second half of 2005.
Although the Dow finished higher, both the S&P 500
SPX
and Nasdaq Composite
COMP
closed lower on Monday as investors awaited the latest batch of U.S. inflation data, due out Tuesday at 8:30 a.m. Eastern.
The Dow is up 3.6% year to date, but it's up nearly 20% since its late September 2022 closing low, the lowest level reached during last year's selloff, and its lowest close overall since November 2020.