In India, several workshops excel in customization and conversion jobs. We've watched videos featuring workshop owners and vloggers constructing cars in their workshops using limited resources. Some turn out clean, while others appear a bit rough. Among these, many excel in crafting miniature models of cars or bikes for children. In one video, a man built a mini Bullet bike for his daughter and took it for a ride on the road, capturing the cops' reactions.
The video was shared by Rammy Ryder on his YouTube channel. In this particular video, the vlogger crafted a mini scooter resembling a Royal Enfield Bullet for his daughter. According to the video, he built this bike in his own garage. It's essentially a scaled-down version of the Royal Enfield motorcycle, utilizing an engine from a Honda Activa.
During the video, the vlogger decided to take the bike out on the road to gauge people's reactions. It's important to note that this action is entirely illegal, and we strongly advise against attempting it. This custom-built bike lacks a registration number and riding it on public roads is illegal.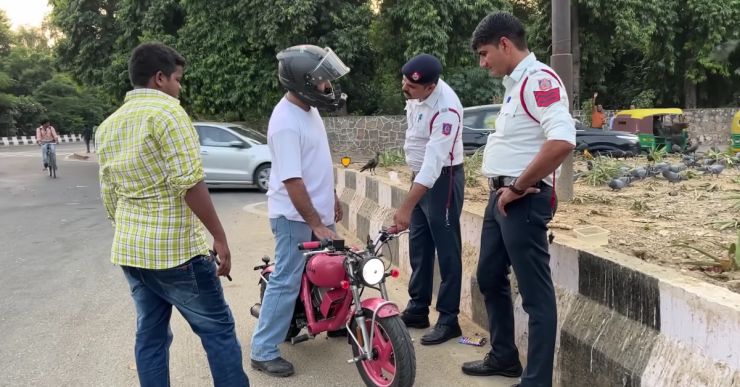 The vlogger rides the bike on narrow roads around his house and then ventures onto the main road. Accompanied by his friend on another Royal Enfield motorcycle, they ride through the bustling streets of Delhi. The bike attracts attention due to its size, with many people approaching the rider to inquire about it. Some engage in conversation while others are simply excited to see the bike.
Skillfully navigating through the traffic, the vlogger eventually encounters a roundabout where a couple of cops are stationed. He steers the scooter towards them and halts. Approaching the officers, he asks for their opinion on the scooter. Surprisingly, the cops respond amiably and appreciate the creation.
Explaining to the cops that he crafted the scooter himself in his garage for his 10-year-old daughter, the rider points out that it's strictly for testing purposes on the road. He assures them that his daughter will only use it within the residential area and not on public roads, for obvious legal reasons.
The cops inspect the scooter and caution the rider against riding it on the road without proper registration. They acknowledge his explanation about testing the scooter and advise him accordingly. Inquiring about its specifications, the vlogger informs them that the bike uses a 110-cc engine from Activa, disc brakes from Aviator, and suspension from another bike. Additionally, he mentions that his daughter named the bike "Pinky" due to its pink paint job. Despite being limited to 20 kmph, it doesn't appear so in the video.