With every passing day, electric cars are becoming more prevalent in the country and across the globe. They have become so popular that even a ton of popular Indian celebrities, businessmen, and famous folks from Bollywood are buying them. This list, over the last few years, has grown a lot, and it seems like it won't be slowing down anytime soon. So, if you want to know which of these popular Indian celebrities have added electric vehicles to their garages, then you have come to the right place.
Nushrratt Bharuccha – BMW iX
Starting off with the newest celebrity to welcome an electric vehicle into their garage, we have Nushrratt Bharuccha with her newly acquired BMW iX SUV. The actress was recently spotted at Mumbai airport with her electric SUV, where she was being dropped off by her family. She was unable to close the rear tailgate of her SUV, and this viral moment was shared online.
Rekha – BMW i7
Next up on the list is the Bollywood veteran actress Rekha. The actress recently took delivery of her brand new BMW i7 luxury sedan. Apart from her, there are tons of more celebrities coming up on the list who also own the newly launched BMW i7 luxury EV sedan. Rekha has gone with a classy champagne grey shade for her BMW i7.
Jacqueline Fernandez – BMW i7
As mentioned above, the Sri Lankan Bollywood actress has also taken delivery of a brand new BMW i7 sedan. The actress, prior to going electric, was spotted around in her Mercedes Benz Maybach luxury sedan. She also owns a Range Rover and a few other luxury cars in her garage.
Kim Sharma – BMW i7
Keeping alive the BMW i7 theme of Bollywood, the "Mohabbatein" movie actress Kim Sharma has also joined the BMW i7 EV sedan owners club. The actress was recently spotted arriving at a restaurant in Mumbai in her new Mineral White metallic BMW i7.
Shekhar Suman – BMW i7
Once again, we have another famous Bollywood celebrity in the list who owns the BMW i7 luxury EV sedan. This time it's the popular singer, model, and actor Shekhar Suman. He bought this sedan for his wife, finished in the shade of Oxide Grey Metallic. He shared the pictures of it on Instagram where he was seen kissing the car with his son on the other side, also kissing the car for a fun picture.
Ajay Devgan – BMW i7
It may seem like all of the Bollywood celebrities only buy the BMW i7 EV sedan, but that just goes on to show how great this electric car is. Next up on this list is the "Singham" movie superstar Ajay Devgan. The actor recently bought this sedan for his wife and popular actress Kajol. The actor has taken delivery of the i7 in the most unique and bespoke color of Twilight Purple Pearl Metallic.
Nagarjuna – Kia EV6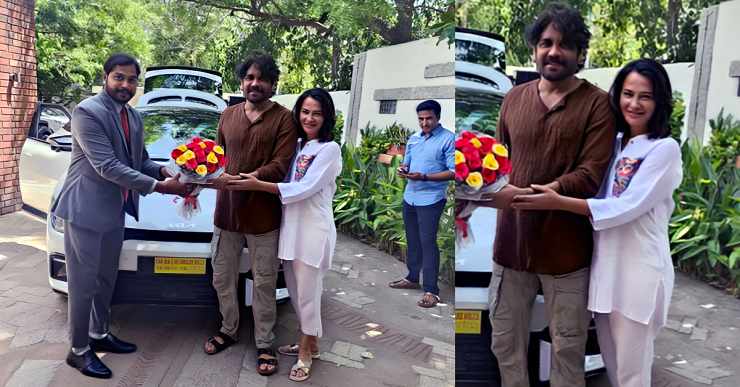 The Telugu megastar Nagarjuna, back in June of this year, took delivery of a brand new Kia EV6 luxury SUV. A picture of the actor along with his wife Amala Akkineni, taking delivery of their new Kia EV6, was shared online. The couple has opted for a very classy shade of white for their EV6 SUV. The Kia EV6 has an ex-showroom starting price of Rs 60.95 lakh.
MS Dhoni – Kia EV6
The next celebrity on the list is the cricketing legend MS Dhoni with his Kia EV6 electric SUV. The former Indian cricket team captain is a hardcore automotive enthusiast and owns a massive collection of vintage and modern cars and bikes. He has a dedicated place to store his collection. Despite his love for ICE vehicles, he is regularly seen driving around in his Kia EV6 electric SUV in Ranchi, Jharkhand.
Mukesh Ambani – Tesla Model S and Model X
The richest man in India, Mukesh Ambani, owns a slew of ultra-expensive luxury cars, including Rolls-Royces, Bentleys, Ferraris, Lamborghinis, and other brands. However, despite all of these petrol-guzzling vehicles, he also owns the eco-friendly Tesla Model S electric sedan. Interestingly enough, he actually owns two Tesla electric cars. The other is the Tesla Model X SUV, which comes with impressive falcon doors.
Pooja Batra – Tesla Model 3
The popular Indian movie actress Pooja Batra, who is also the former Miss India Pacific, owns a Tesla Model 3 crossover. The actress, however, does not reside in India and instead lives in the United States of America. The Model 3, for those who are unaware, is the entry-level model from Tesla. When Tesla eventually makes its debut in India officially, the Model 3 will most likely be offered in the country.
Riteish Deshmukh – Tesla Model X and BMW iX
The popular Bollywood and Marathi movie actor Riteish Deshmukh also owns two very popular electric SUVs in his garage. The actor in India drives around in a red BMW iX electric SUV. Meanwhile, he owns a red Tesla Model X EV SUV at his residence in the United States. He also owns a Toyota Fortuner Legender as well.
Mahesh Babu – Audi e-Tron
The Telugu superstar Mahesh Babu is also one of the proud owners of electric cars in India. The actor is regularly seen being driven around in his Audi e-tron 55 EV SUV. The actor shared a picture of himself with the brand new vehicle on social media. This popular electric SUV generates 402 Bhp and 664 Nm of peak torque and boasts a driving range of 484 km. It is priced at around Rs 1.18 crore, ex-showroom.
Manju Warrier – Mini Cooper SE
The popular Malayalam cinema actress Manju Warrier has gone with a very unique electric vehicle. The actress got herself a customized Mini Cooper SE electric hatchback earlier this year. This British luxury EV hatchback was launched in India in February. It is imported and sold as a CBU (completely built unit) and has an ex-showroom price of Rs 47.20 lakh.
Madhuri Dixit Nene – Tata Nexon EV Dark Edition
The immensely popular Bollywood actress Madhuri Dixit and her husband Dr. Shriram Nene earlier this year took delivery of a Tata Nexon EV Dark Edition. The pictures of this SUV were shared by Dr. Nene on his Instagram profile. Apart from this EV SUV, Dr. Nene also owns a Ferrari 296 GTB, Porsche 912 Turbo S, and a few other exotic cars as well.
Mandira Bedi – Tata Nexon EV
The popular actress and Television host Mandira Bedi is also a proud owner of a Tata Nexon EV. Unlike Madhuri Dixit, she owns a standard model of the EV SUV. Prior to the launch of the Tata Tiago EV, the Nexon EV was the best selling electric vehicle in India.
N. Chandrasekaran – 2 Tata Nexon EV SUVs
Back in December of 2020, when Tata Motors hit the milestone of rolling out the 50,000th unit of EV from the factory, N. Chandrasekaran, Chairman of Tata Sons & Tata Motors, took delivery of that 50,000th car, which was a Nexon EV SUV. This became Chandrasekaran's second Nexon EV. In 2020, when Tata launched Nexon, he had also gotten himself a Nexon EV.
Ulka Gupta – Tata Nexon EV
The popular TV actress Ulka Gupta, known for her appearance in the show "Jhansi Ki Rani," recently bought a Tata Nexon EV on her birthday. The TV actress took delivery of the car, and the video of her taking delivery of her Nexon EV was shared on YouTube.