The festive season in India is often considered a good time to purchase new vehicles, and many people take advantage of this opportunity. This period is highly anticipated by numerous car manufacturers throughout the year. It's not just the common man who buys new bikes or cars during this time; even celebrities indulge in purchasing expensive vehicles.
We have a video showcasing 5 famous Indians who recently bought expensive cars during this festive season. The video was shared by Cars For You on their YouTube channel. In this compilation, the vlogger has curated several videos revealing which celebrities purchased new cars.
The first celebrity featured in the video is Sonam Kapoor, a well-known Bollywood actress and the wife of a businessman. She recently acquired a brand new Land Rover Defender SUV. The current generation Defender has gained popularity among celebrities in India and worldwide.
The SUV comes in 90 and 110 variants. Sonam Kapoor opted for the 5-door 110 variant. It's available with both petrol and diesel engine options. The starting price for a brand new Land Rover Defender is Rs 93.55 lakh, ex-showroom, and can go up to Rs 2.30 crore, ex-showroom.
The next notable personality is actor Anil Kapoor, a veteran in the industry and the father of Sonam Kapoor. He recently purchased a Mercedes Maybach S580 luxury sedan. Maybachs have captured the attention of many buyers in India. Anil Kapoor's luxury sedan is finished in an Emerald Green shade. The S580 is powered by a 4.0-liter bi-turbo V8 mild-hybrid petrol engine that generates 496 bhp and 700 Nm of peak torque. This sedan, equipped with all-wheel drive, costs Rs 2.69 crore, ex-showroom.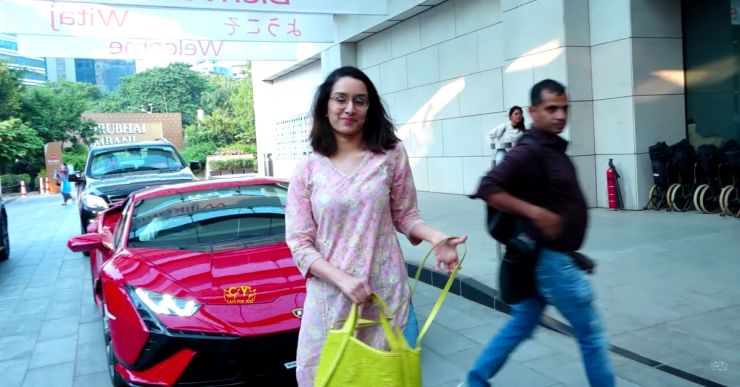 The video then showcases Shraddha Kapoor, one of Bollywood's leading actresses, who recently acquired a Lamborghini Huracan Tecnica. Shraddha happens to be the first Bollywood actress to own a sports car. The car boasts a 5.2-liter V10 engine that generates 640 PS and 565 Nm of peak torque. Paired with a 7-speed dual-clutch automatic transmission, the Tecnica version also includes rear-wheel steering and carbon ceramic brakes as standard. The Huracan Tecnica is priced at around Rs 4.04 crore, ex-showroom.
Next in the video is Nita Ambani, who recently acquired a brand new Rolls Royce Cullinan Black Badge SUV. The SUV, finished in an orange shade, offers a variety of customization options typical of Rolls Royce, which further elevate the price. Powered by a 6.75-liter twin-turbo V12 engine generating 600 bhp and 900 Nm of peak torque, the Cullinan Black Badge starts at Rs 8.2 crore, ex-showroom.
Lastly, Mukesh Ambani's name appears on the list, as he purchased another Mercedes-Benz S680 Guard. This marks possibly his third S680 Guard. It's a bulletproof sedan offering VR10 level protection, capable of withstanding 15 kgs of TNT from a distance of 2 meters. The sedan's underbody and base structure have been reinforced, with the body shell constructed of reinforced steel. It's powered by a V12 engine generating 612 hp and a staggering 830 Nm of torque. Mukesh Ambani's S680 Guard is expected to cost anywhere around Rs 10 crore and above.