Welcome back to Distributed Ledger. This is Frances Yue, reporter at MarketWatch.
The crypto space has seen several cases where the popular strategy "buy the rumor, sell the news" was applicable, meaning the price of a digital asset would rise as traders purchased it in anticipation of a positive news event, but fall after the actual event happens, as many buyers already exhaust themselves and become natural sellers. 
However, it won't be the case for the potential launch of bitcoin
BTCUSD,
+0.85%
exchange-traded funds, according to Dan Morehead, founder and managing partner at Pantera Capital, and Jeff Lewis, product manager of hedge funds at the firm. If a bitcoin ETF is approved, it would only boost bitcoin prices further, they said.
Optimism around bitcoin ETFs have contributed to a 30% gain of bitcoin over the past 30 days, according to CoinDesk data.
Market participants expect the Securities and Exchange Commission to approve a spot bitcoin ETF by January 10 next year. The agency has repeatedly rejected such applications in the past, citing their vulnerability to market manipulation. 
A quick programming note: There will be no Distributed Ledger next Thursday, Nov. 23, due to the Thanksgiving holiday in the U.S. This newsletter will then shift to being published on Wednesdays, with the next edition out on Nov. 29.
Find me on Twitter at @FrancesYue_ to share any thoughts on crypto or this newsletter.
Buy the news?
Bitcoin jumped over 2,000% in the 12 months before the CME Group launched bitcoin futures in December, 2017, but later fell 84% to a cycle low. The crypto also rose 848% in the year before crypto exchange Coinbase went public in 2021, while seeing a 54% decline afterwards.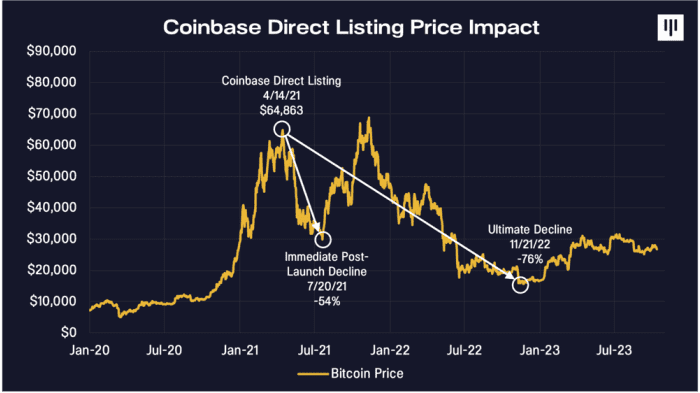 However, don't look for a repeat if a spot bitcoin ETF is approved, Morehead and Lewis said in a Thursday note. 
Neither the bitcoin futures launch nor the Coinbase public listing had any impact on "real world access to bitcoin," the analysts wrote. Bitcoin futures were only interesting to a small niche of investors, mostly arbitrageurs, while for Coinbase, "the change in who owned stock did nothing to increase access to bitcoin," the analysts noted. 
However, once a spot bitcoin ETF is approved, it could "fundamentally change access to bitcoin," noted the analysts. 
"The existence of an ETF is a very important step in becoming an asset class. Once an ETF exists, if you don't have exposure, you're effectively short," noted the analysts. 
BlackRock applies for Ether ETF
BlackRock has filed an application with the U.S. Securities and Exchange Commission for its iShares Ethereum Trust, an exchange traded fund to directly invest in ether
ETHUSD,
+1.19%.
It follows the asset manager's application for a spot bitcoin ETF in June.
Who are the crypto investors? 
A recent study by the National Bureau of Economic Research showed that "crypto investors are not as dissimilar from equity investors as some might believe," MarketWatch's Mark Hulbert reported. 
The study, entitled "Who invests in Crypto? Wealth, Financial Constraints, and Risk Attitudes," was conducted by Darren Aiello, Mark Johnson and Jason Kotter of Brigham Young University, Scott Baker of Northwestern, Tetyana Balyuk of Emory University, and Marco DiMaggio of Harvard.
The researchers separated investors based on whether they do or do not invest in crypto, and calculated the average amount people in different income cohorts invested in traditional asset classes, such as stocks and bonds. The results showed that the amounts are barely distinguishable.
Read more here.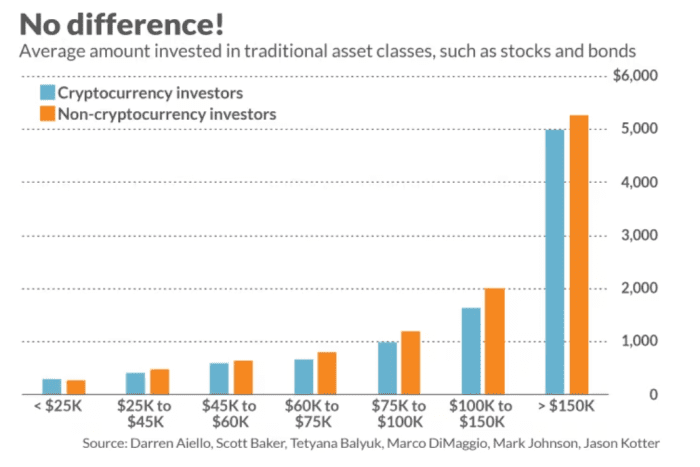 Crypto in a snap
Bitcoin edged up 0.7% in the past seven days and was trading slightly below $35,800, according to CoinDesk data. Ether rose 1.2% during the same period at around $1,950.
Must-read
How a Bay Area man lost $260K in crypto texting scam (San Francisco Chronicle)